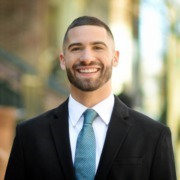 Whether it's buying/renting a place to live or selling your current place of residence, the process can be very overwhelming. Brian is here to take all of that off your plate! 
Brian is known for his honesty and professionalism. If Brian is selling your home he will work his hardest to get the highest price for it. If you are buying/renting he will make sure to find you the best place with all of your needs. Brian is a resident of Manhattan and knows how frustrating it can be to find the perfect place to live; lucky for you Brian loves challenges and the feeling of finding clients their dream homes.
During Brian's free time, he enjoys hanging out with his  family and friends, trading the stock market, reading and traveling. Additionally, Brian is a graduate from West Virginia University and has over 5 years of experience in the United States Army National Guard.